The VertiGIS project management interface provides the administrator with a list of all available VertiGIS projects. A toolbar with the following functionalities appears in the upper part of the pane:
To create or edit projects, the user must have administrator privileges.
Buttons
Starts a wizard to create a new VertiGIS project.

Switches to edit mode for the selected VertiGIS project and allows extensions and changes to the selected project. Double-clicking on the selected project also switches to edit mode.

Deletes the selected project from the list of available VertiGIS projects.


The selected project will also be deleted from the connected ArcGIS Portal.

Updates the list of available VertiGIS projects.

This button allows to open the selected VertiGIS project and start a new ArcGIS Pro session. As project administrator you can use this button to test the created VertiGIS project for usability in ArcGIS Pro.
Next to it, the URL of the currently connected portal appears in the upper right area of the dialog.
Modify VertiGIS projects
If a project has been selected and changed to the edit mode, the following editing interface appears: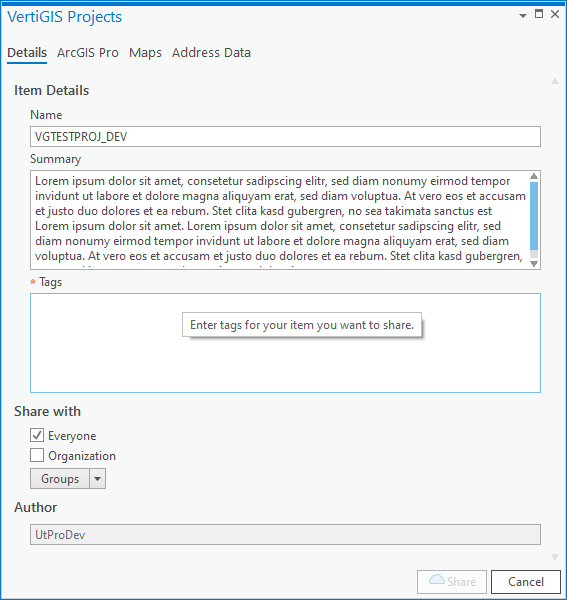 In this edit mask, the project name and tags for the project can be set in the Item details section.
With Share with, settings for storing the project as a portal item can be stored: The sharing options can be specified here.
In the ArcGIS Pro section, an ArcGIS Pro project package can be searched and selected on the connected portal. In the Maps section, both web maps and map displays can be selected and assigned for the VertiGIS project to be modified. Both web maps and map displays are available as elements in ArcGIS Portal. These elements can be searched and assigned to the project.
For the address search with the Navigator, address tables in the same schema as the GIS data are used by default. If the addresses are in a different schema, they can be addressed via an address service. In this case, the URL of this address service must be specified in the Address Data tab.
Geolocators can also be linked to the project. However, these must be available in the same portal as the project.
Create a new VertiGIS project using the wizard. See chapter Create VertiGIS Project.