Administrator Help
ZoomControl Module
The ZoomControl Module is responsible for map zoom controls.
The views are configured in the Navigation Module, which determine the order in which all navigation-related views appear.
GeolocateViewModel has been moved to the Geolocate Module.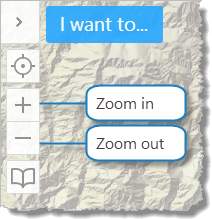 Zoom controls on the map
Zoom in: Zooms in the map.

Zoom out: Zooms out the map.
Configuration Properties
Module
No configuration properties
Views
No views
View Models
No view models