Configure High-Precision GNSS
You can configure a Mobile app that is capable of connecting to a high-precision GNSS receiver in order to gather very accurate location field data. From within the Mobile app, you can switch quickly from your integrated device GPS to a connected GNSS receiver, and see details about the horizontal and vertical accuracy, satellites in use, etc. You can set the antenna height if it is required, and then select the Datum Transformation to use. The Datum Transformations listed for you to select, will all function with the GNSS receiver and the web map that you are using.
Preparation and Setup
If you plan to use a high-precision receiver with a Mobile app, you will need to ensure that you have the following preparations complete. 
Prepare your receiver
Any high-precision receiver you plan to use must be configured to output National Marine Electronics Association (NMEA) sentences and to work with the corrections services that you plan to use, for example, Satellite-based Augmentation System (SBAS). Most devices will only let you pick the NMEA sentences that correspond to your device and situation, but other receivers are designed to work with many types of devices and they can be configured in a variety of different ways. You will need to ensure that all the devices you plan to use, can pair with your receiver.
You also need to ensure that the communication channels you are using, for example, USB, serial port, or Bluetooth, work between the receiver and the devices you will be using.
Enable GNSS on a Feature Layer
High accuracy latitude and longitude information is automatically gathered when a GNSS receiver is connected. However, if you wish to gather detailed GNSS metadata, you need to create or edit a web map so that contains the required field names for the metadat. When a web map has these fields available, and a GNSS receiver is connected, Mobile apps will populate those fields and the information will be available in the metadata view.
The instructions below indicate an easy method of adding the GNSS metadata fields to a web map in ArcGIS Online or Portal for ArcGIS.
In the Portal that you use, create a feature layer that includes a points layer. Only points layers capture and retain the metadata that GNSS receivers make available. Ensure that you select the Capture GPS receiver information option when you create the feature layer. Selecting this option creates the fields on the points layer that will contain the metadata collected by the GNSS receiver.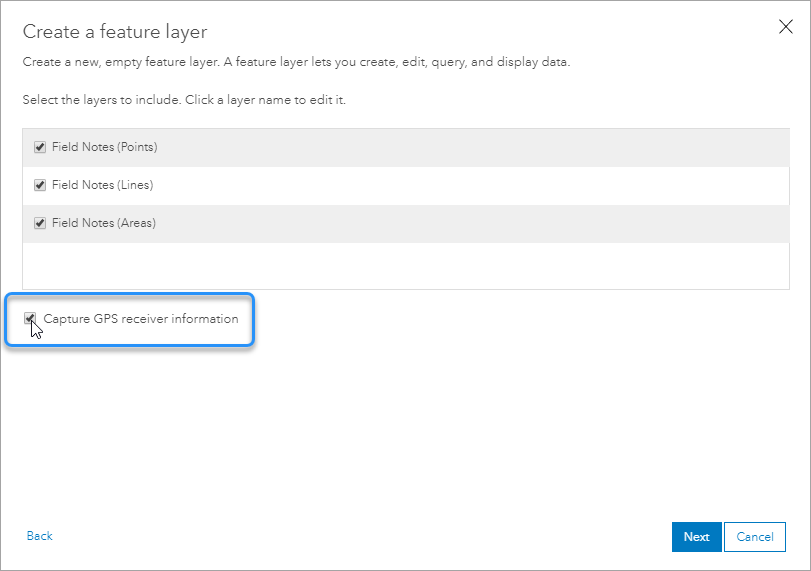 The Capture GPS receiver option in ArcGIS Online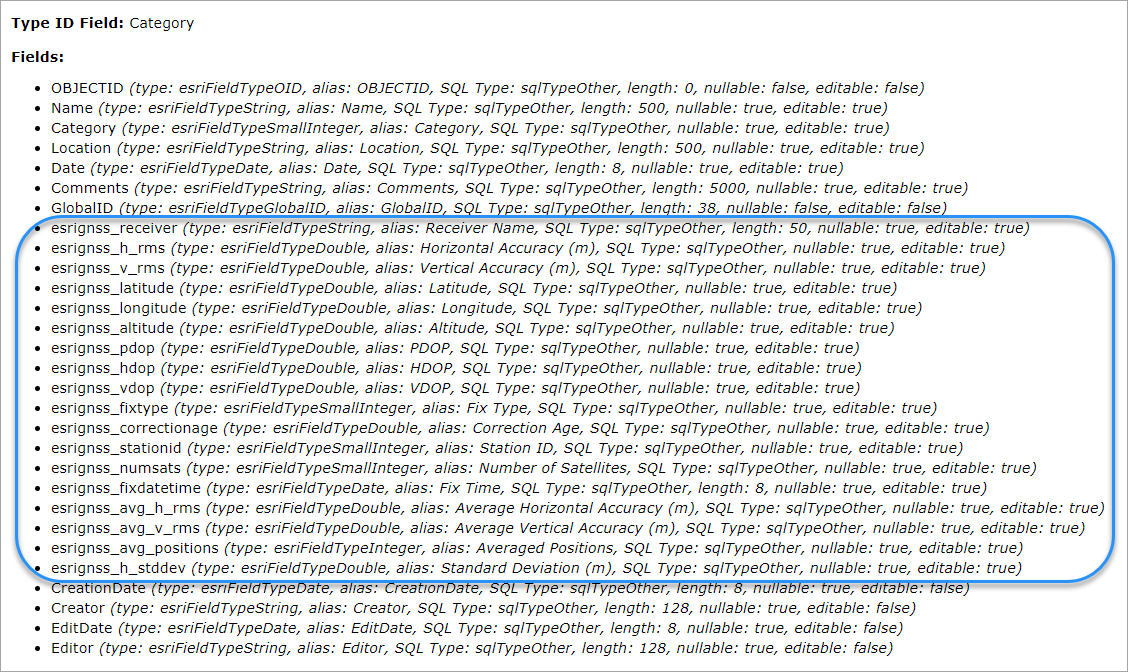 The GPS-Points layer showing the fields added when the Capture GPS receiver option is selected
Pair Devices with Receivers
The process for pairing each device to the receivers you plan to use will be different. In many cases, you will pair them using Bluetooth. You will need to pair each device you plan to use in the field to a receiver. Some receivers can be paired with multiple devices.
Create and Configure a GNSS App in
Mobile Designer
The procedure below uses a web map Capture GPS receiver option enabled to indicate how the GNSS metadata fields appear in Mobile Designer.
To configure an app for GNSS:
In Mobile Designer, create a new app.

Click Map and select your web map.

When you click the points feature layer on which you enabled GPS, you will see all the metadata fields that the Mobile app will populate with information from your GNSS receiver.

In the Map panel, expand GNSS Settings.

If the default Receiver Data Spatial Reference and the Web Map Data Spatial Reference are not the same, you will need to select a Datum Transformation that will convert the receiver spatial reference to the web map's spatial reference.

Select the Allow GNSS settings to be overwritten, if you want to enable field workers to select a different Datum Transformation in their

Mobile

app. If you do not want field workers to change these settings in the field, do not activate this setting.
Click File | Save to save your GNSS app.
Use a GNSS Receiver with a
Mobile

App

When you have a device that is paired with a high-precision GPS receiver, you can open a Mobile app and click on the accuracy indicator in the bottom right corner to open a dialog where you can do the following:
Switch to from the integrated GPS receiver to the connected GNSS receiver.
View the GNSS information about the current receiver.
Refresh the list of connected devices.
Enter the Antenna Height of the receiver if required.
Select a Datum Transformation to use if the Allow GNSS settings to be overwritten option was activated in

Mobile Designer

.
For step-by-step instructions, see Use High-Precision GPS in the VertiGIS Studio Mobile User Help.
Supported Devices
Currently supported GNSS devices include the following:
EOS Arrow devices
Leica Zeno FLX100 plus and GG04
Trimble R1 and R2
Bad Elf Bluetooth GPS devices