Background Apps
Your administrator can configure your Studio Go application to continue running when it is in the background or when your device is asleep.
If enabled, an icon appears at the top of the home screen when your device is receiving location updates to run tasks in the background. The figure below shows the icon on an iOS device.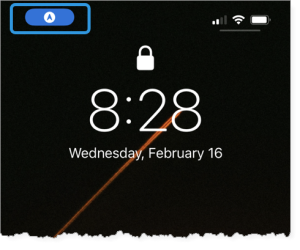 The background processes stop when you close the application.
Running Studio Go in the background impacts the battery life of your device.
System Notifications
System notifications are messages on your device that alert you of Studio Go updates.
The following settings must be configured for you to receive notifications:
Your administrator must enable background location updates for your application.

You must enable system notifications on your device.
When you launch Studio Go on your device, a prompt opens for you to receive notifications. If you accept, notifications appear on the locked home screen of your device. The figure below shows an example of a notification on an iOS device.