The Query Builder component provides a standalone interface for your user to search map layers by entering logical conditions.
You can add a Query Builder component anywhere in your layout and then connect it to a toolbar or button for the user to invoke.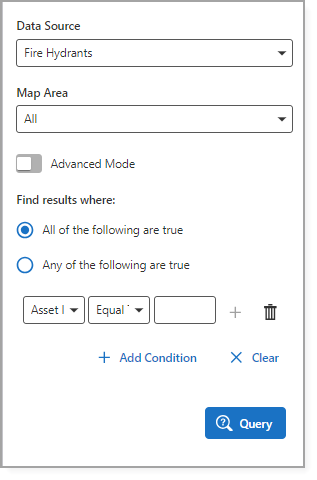 The table below describes the fields in the Query Builder.
| Field | Description |
| --- | --- |
| Data Source | Lists the available map layers that the user can search. |
| Map Area | Specifies whether to search the whole map or limit the search to the visible map area. |
| Advanced Mode | Allows the user to enter their own search criteria using SQL syntax, rather than by adding conditions. |
| Find results where: | Allows the user to specify whether the query returns results that match all of the condition(s) or any part of the condition(s). |
| Add Condition | Adds another row of fields to create a condition. |
| Clear | Removes all existing conditions. |
| Query | Starts the search for data that matches the specified conditions. |