Administrator Help
LayerList Module
This module can be configured using Geocortex Essentials Manager. For instructions, see The Layer List.
The LayerList Module controls the Layers panel that displays on the left side of the viewer by default. It contains the configurable directory of folders, map services, layers and basemaps that are available in the viewer. End users use the Layers panel to change the visibility of layers, show legend swatches, change the transparency of layers, and more.
You can use Manager to control which folders, map services and layers are initially turned on in the Layers panel when a user launches the viewer. For information, see Configure a Folder's Default Visibility, Configure a Map Service's Default Visibility, or Configure a Layer's Default Visibility.
Layers panel

Panel Actions menu

Layer Theme selection

Layer List Filter input field

Folders

Opens Layer Actions menus

Visibility settings
Transparency sliders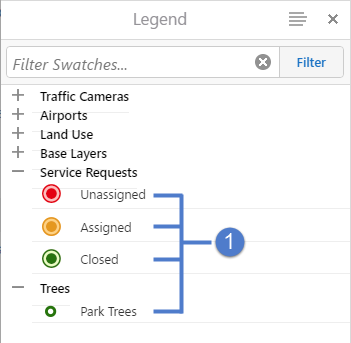 Legend swatches in the Legend panel
| | |
| --- | --- |
| | Legend swatches |
Filter the Layer List
When the user begins typing in the Filter input field, the layer list shows the layer names that match or contain the text in the Filter field. If the matching layers are in folders, those folders are displayed and expanded to show the layer names.
For example, the following image shows the results of filtering the layer list to show any layers containing "Ma". The search is not case sensitive, and in this example Imagery is included in the results because it contains "ma".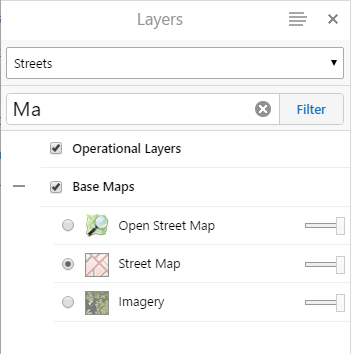 If the user selects Show Legend in the Panel Actions menu, the Filter input field indicates that the filtering applies to swatches.
Configuration Properties
Module
enableLegendIntegration: To enable the ability to display legend swatches within the layer list, set to true. The default is true.

onlyShowSwatchesOnVisibleLayers: To only display legend swatches for layers that are visible, set to true. The default is false.

autoActivateAncestorVisibilities: To automatically toggle the visibilities of parent items when the visibility of an item in the layer list is changed, set to true. The default is false.

enableLayerIcons: To display layer icons for each layer in the layer list that has layer icons configured and does not have a legend, set to true. The default is false.
Views
View Models
LayerListViewModel:

showTransparencySlider: To display transparency sliders for folders and layers, set to true; otherwise set to false. The default is true.

The way transparency sliders appear differs between dynamic map services and feature layers:

Dynamic map services have a single transparency slider at the folder level if all contained layers are from the same service and no other folders contain layers from the same service. Failing that, sliders do not appear. Sliders never appear for each layer of a map service.

Feature layers always have transparency sliders for each layer, never at the folder level.

autoExpandLegendSwatches: To automatically display the legend swatches for each layer within the layer list, set to true; otherwise set to false. The default is false.

LayerActionsViewModel: No configuration properties

MapServiceActionsViewModel: No configuration properties