VertiGIS Studio Go

User Interface

The descriptions and screenshots of the VertiGIS Studio Go UI that you see in this document are unlikely to be the same as the one you are using, however, some or all of the UI components are likely to be present in your application.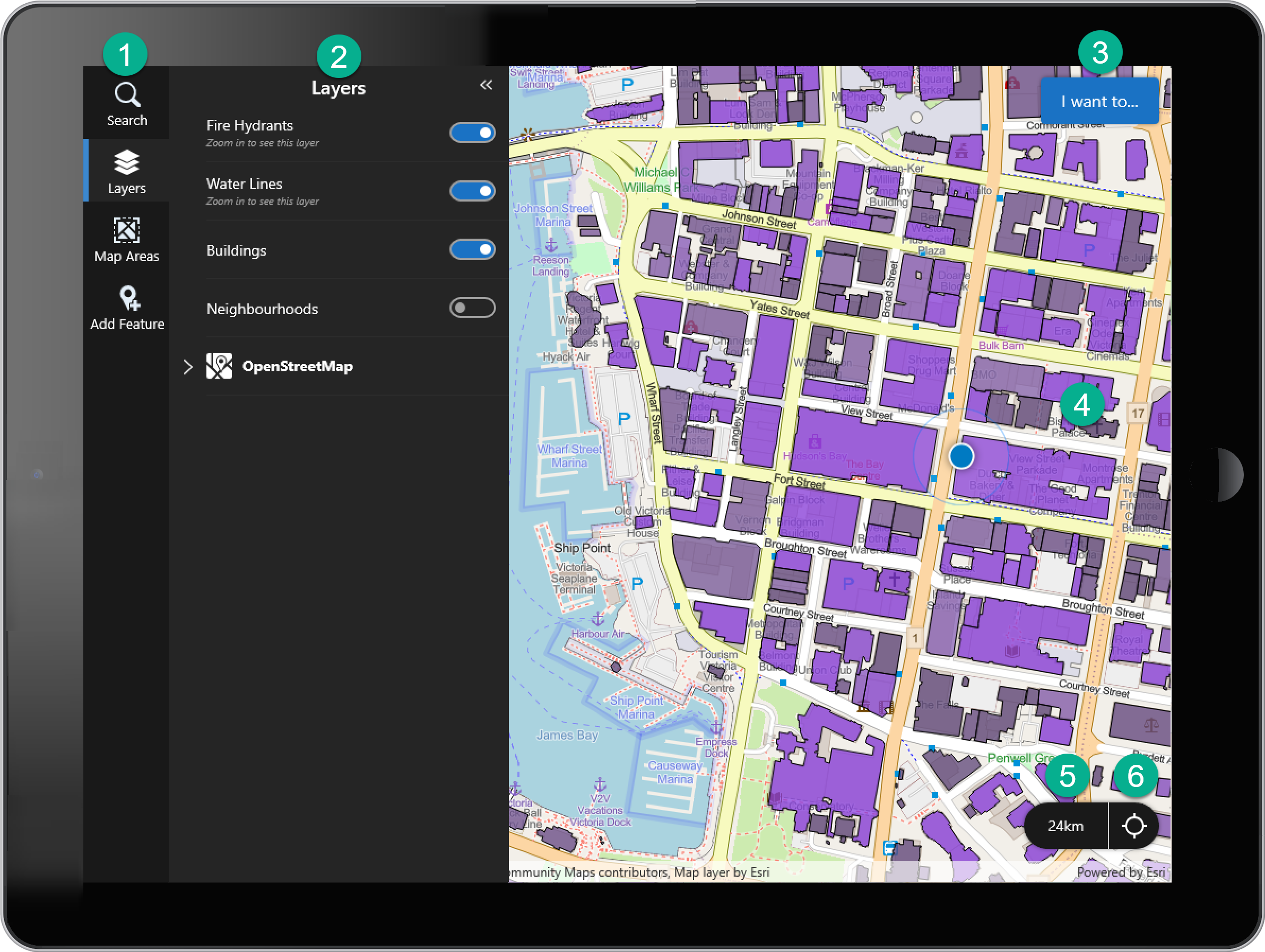 Typical Mobile App UI
Taskbar - A list of icons that you click to open a panel containing tools that perform certain tasks, for example, turn layers on or off, or download and activate Map Areas. Buttons on the taskbar are for feature search, layers, map areas and to add features but your app may have others if they have been configured.

Panels - Panels open when you click a button on the taskbar, when you click the I Want To menu, when you click a feature, or when you interact with a search result, a related record or an attachment. The screenshot above shows the Layers panel. Panels contain information as well as tools you can use to accomplish a task. For example, the Layers panel makes it possible to quickly show or hide layers on the map.

I Want To Menu - A list of actions that are used often. When you click this button, a menu opens that lists actions like Refresh App or Return to Default Map View.

Map - The map that this application uses. You can drag the map around (pan), zoom in and out, and rotate the map.

Geolocation Accuracy - The accuracy of your device's location on this map. 24m indicates that the location shown on the map is accurate to within 24 meters, which means that your device could be anywhere within the thin blue circle that pulses around the blue dot.<![CDATA[ ]]>

Geolocate Icon - Toggles between different geolocation modes to indicate various states.

Location Services for the device must be turned on for geolocation to work.

To center the map on the device's location, click the geolocate icon .

When the device location is centered, the geolocate icon changes to show a blue dot at the center and pans to keep the device centered on the map.

When the map is in flashlight mode which automatically pans the map, the geolocate icon changes to show a compass needle at the center . If the map isn't oriented north, a compass appears above the geolocate icon.

If the device location is not available, the geolocate icon is gray and crossed out .

For more detailed information about how geolocation works, see Geolocation.